We wear makeup to accentuate our best assets! We all want to look youthful and beautiful, and hope that our cosmetics meet our needs. However, it gets more challenging if you are dealing with allergies (gluten, soy, corn, etc) or specific skin conditions. You need products that work AND are pure and safe.

Here's a few tips to get the best possible look:
For youthful fresh looking makeup, we recommend prepping the skin before applying makeup. Don't skip this essential step.

STEP 1 - gently cleanse the skin with a cleanser appropriate for your skin type (we love Wild Honey pH Cleanser for an over-the-top luxury cleanse that hydrates), or Bright Skin Nourishing Cleanser for hyper-pigmented skin. UltraPure Cosmetics offers 7 cleansers that will meet your needs.

STEP 2 - spritz skin with a hydrating toner/treatment like Hydra-Peptide Infusion Spray or Phyto-Infusion Spray.

STEP 3 - follow with a anti-aging multi-peptide treatment like Line Erase Serum.
STEP 4 - finish with a moisturizer/facial oil if your skin is dry.
**Try our latest innovation Cucumber + Vitamin C Facial Oil - for those who like a facial oil, this product is for you. Coming soon!

STEP 5 - exfoliate skin 1-3 times per week to create the smoothest (flake-free) skin possible. Our Papaya Enzyme Mask combines papaya, bromelain with salicylic acid, an effective yet gentle approach to clear, bright skin.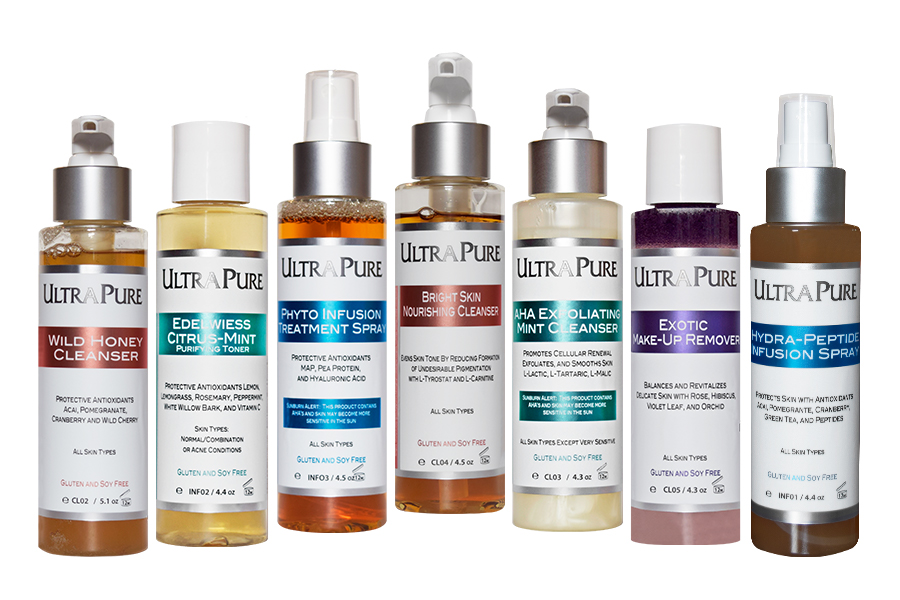 Now the fun stuff!

The goal with makeup is to create a natural and translucent look, not a mask-like face.
Pick the right foundation to achieve luminous skin. Wearing a heavy full-coverage matte liquid makeup can sometimes make you look older. Adding MORE foundation is not the key to looking youthful, especially if it's caked-on. We offer several foundations that will meet your needs. Click Here
Pick the right foundation color! Nothing adds years than seeing an unnatural makeup line between your face and your neck. If you like a tanned look, add a bronzer, but don't apply it all-over. Apply bronzer where the sun hits your face (down center of nose, cheeks, and temples).
UltraPure Cosmetics offer a Mineral Perfection Set that allows you to try several foundations, and other products before you commit to full-sizes. Each set contains 2 mineral foundations (loose format), 1 setting powder (loose format), 1 blush (loose), 1 full-size Mineral Concealer and 1 Ultimate Buffer Brush.
Don't forget the blush! Appearing ghostly isn't a great look, and let's face it most of us loose a bit of color as we age. Adding a hint of blush is hands down the fastest way to create a more youthful look. Try using two colors. A darker blush to contour and define, paired with a light highlighter on top of cheekbones.
No one wants to look tired. Not concealing dark circles can ruin and otherwise fine look. Use a creamy concealer like Mineral Concealer in the darkest areas under the eyes, then blend. Use Mineral Concealer on the eye-lids so that eye makeup stays on longer. We offer 4 colors: Pink to brighten under eyes ( light/medium skin tones). Yellow to conceal purple tones under eyes (light/medium skin tones). Neutral, a light beige skin tone (medium to med/dark skin tones). Peach, brightens dark circles, and works well with medium-to-dark skin tones. Green tones down red and heals blemishes.
Eye Brows. Brows that are too thin or missing hair can age you fast. Best tip: fill in your brows with a Liner or eye shadow, we offer several Eye Liners that work for brows. Check out EY05 Taupe which will work for most blonds and medium brown hair colors, or Espresso for darker hair colors. Fill in brows with a pressed eye shadow like Pebble or Coffee Bean. It is easy using a brush like UltraPure Cosmetics Soften-It Brush.
Thick eye liner that rims both upper and lower lid can have an eye-closing effect, especially if it is black, so be careful. The solution: practice applying a thinner line and possibly softening the line by applying an eye shadow over it (it'll stay on longer too). Try softer colors, like Espresso, Taupe, and/or Navy Blue.

Nothing says older than lips that bleed into cracks. Create lip definition with a lip liner, then FILL IN the lips with the liner before applying lipstick. Lipstick stay on longer too. We suggest layering lip products. To take a closer look at our lip selections, CLICK HERE
Photo credit: sent to us by Gwendolyn DiFerdinando, Licenced Esthetician. Gwendolyn owns Skin Like Rissa's Spa in Greensboro, NC. She looks youthful and her skin glows!