Expert Tips From The Makeup Pros At UltraPure Cosmetics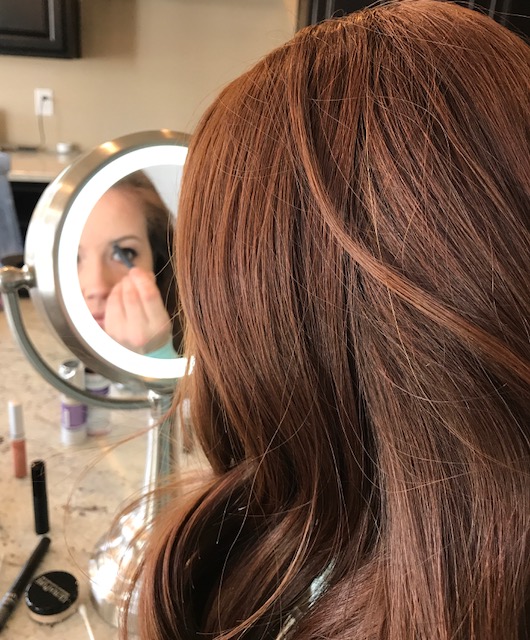 How To Find The Perfect Mineral Foundation Match:

It's easy! If you purchased the Mineral Perfection Set, you received two Flawless Finish Foundations in your kit. Apply a vertical line of each Flawless Finish Foundation on the jaw line going down to the neck, blending it out. The right shade will blend into your skin, almost disappearing into your skin. You have found the right match! If you want more color, we suggest contouring the cheeks with bronzers and/or blush, rather than apply a darker foundation all over the face. Apply bronzers and/or blush to the apples of cheeks, sides of temples, down the center of nose and on the chin (where the sun would touch you naturally).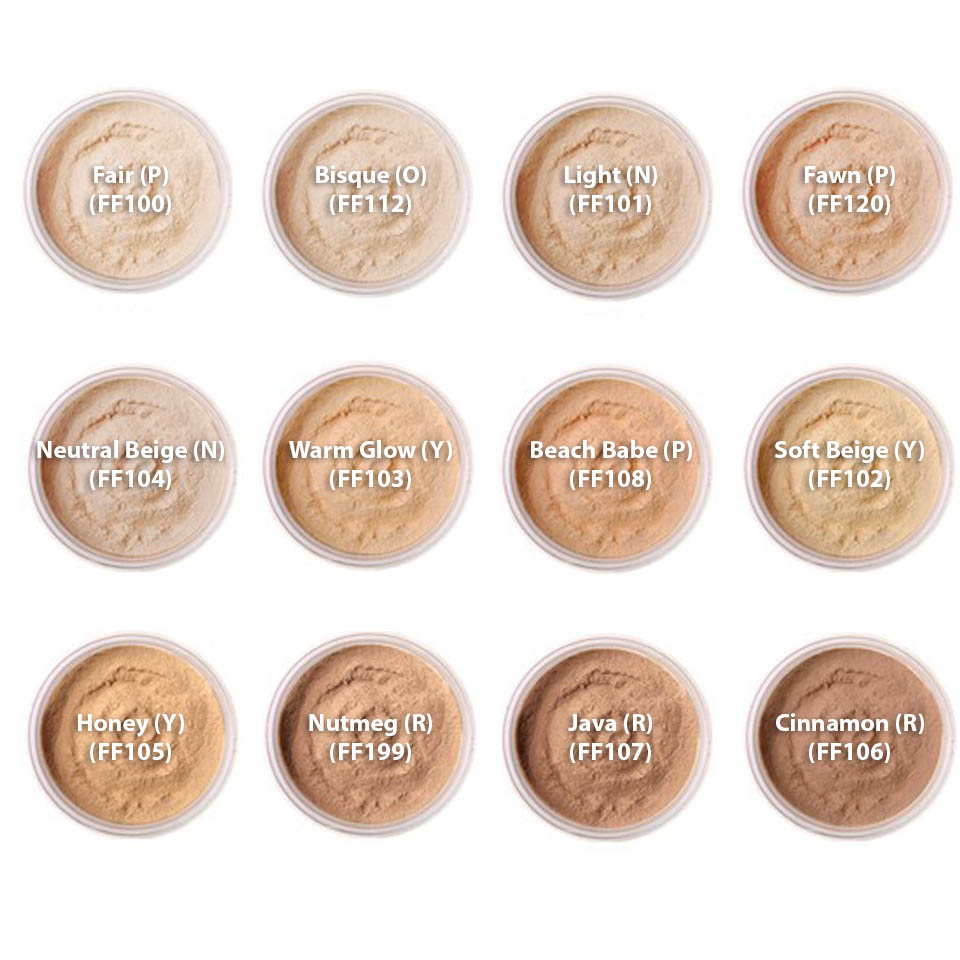 Application: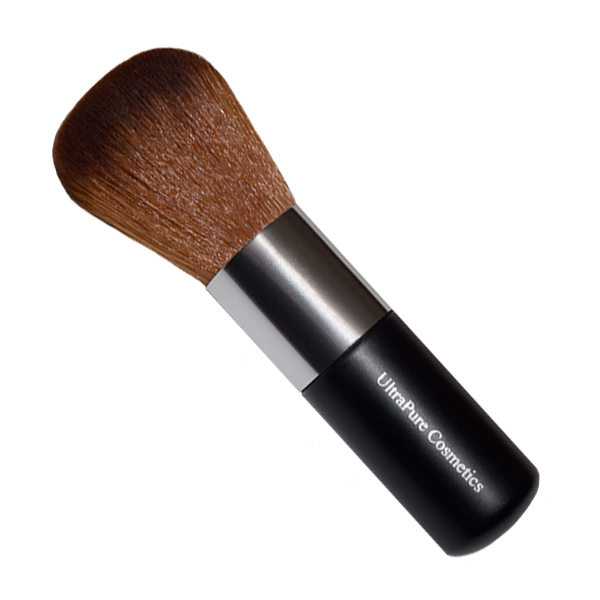 Apply a small amount of Flawless Finish Foundation on the tip of the Ultimate Buffer Brush (also found in your kit) tapping off the excess. Use the lid of the foundation jar, swirl the brush into the lid distributing the product evenly on the brush. This is an important step so that you don't apply too much product. Starting at the jaw line, apply the foundation using the Ultimate Buffer Brush in a circular motion (working your way around the face). TIP: the right brush makes ALL the difference in how the make up looks. The foundation always looks better approximately 15 minutes after application, once the minerals warm up on the skin. You'll notice a difference! If you prefer a pressed foundation, we offer 5 shades in a Pressed Perfection Foundation. If you prefer a tinted moisturizer, try our latest launch, Ultra-Mousse Ageless Foundation. You will love this lightweight, sheer-coverage, anti-aging formula with peptides, argan oil, and kombucha. Available in 3 shades.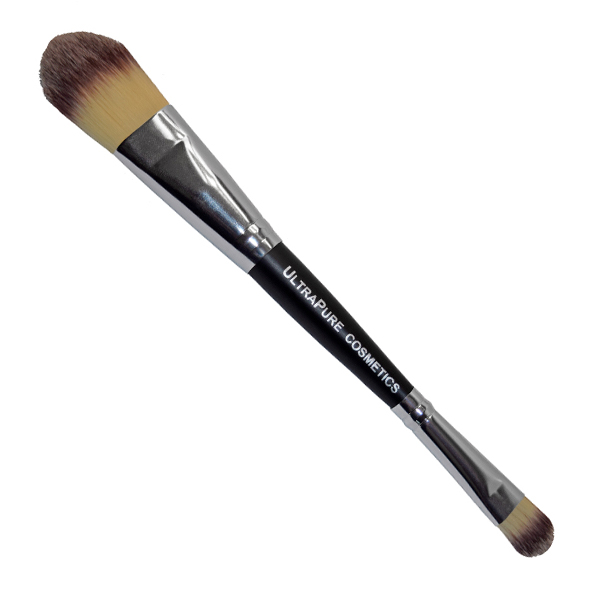 Use the Cover-It Foundation Brush to apply all foundations (wet and dry) and use with Mineral Concealer. Use this brush in the areas where more coverage is desired. Apply around the areas of the nose, eyes, over blemishes, and hyper-pigmentation. Once you've used this brush, it might become your favorite make-up tool!
Set Your Makeup with Matte Setting Powder:

Matte Setting Powder gives skin a nice porcelain matte finish, sets the make-up, and makes pores look invisible. It is highly recommended for clients who have t-zone oil or oilier skin conditions. The kaolin clay helps to absorb the excess oil. Translucent Amino Silk Setting Powder does not contain kaolin clay and is recommended for all skin types and skin tones. Matte Setting Powder can be used alone (without the Flawless Finish Foundation) if less coverage is desired. Application method is the same as the foundation powder.
Mineral Concealer: offered in 4 concealing shades. Simply apply a dab onto skin and blend out. Apply on cleansed skin, after moisturizer. Follow with your Flawless Finish Foundation.
Brighten Up (pink) Concealer works great on light to medium skin tones. It really brightens up the areas under the eye. You can also highlight the face with it. For example: down the center of nose and forehead, etc.
Quick Fix (yellow) Concealer works well on light to medium skin tones. Conceals purple hues well.
Quick Fix (neutral-beige) Concealer works well on light/medium to medium skin tones. Covers dark circles and hyper-pigmented skin.
NEW! Quick Fix (peach) Concealer works well on medium/dark skin tones. This has a red undertone and can be effective in concealing dark circles.
Q & A:
Q: Why is UltraPure Cosmetics foundation different from other brands?
A: Good question! UltraPure Cosmetics offers a pure alternative to conventional makeup brands and even health-food brands claiming to be "clean". The biggest difference is that we don't use bismuth oxychloride in any of our formulas. Bismuth Oxchloride is a heavy sticky mineral that has a chemical structure that is similar to arsenic. It can be irritating those who have acne, sensitive skin or rosacea conditions. We also do not use dyes/lakes in our formulas which has been shown in some studies to have a toxic effect to the brain. Nor do we use talc which is very common in many mainstream brands. We consider talc to be a cheap filler and never use it in our formulas. Our line is gluten-free and most of the products are also soy-free as well. We never test on animals and our makeup and skin care is all made in the USA in small batches.
Q: What is the coverage like with your Flawless FinishFoundation?
A: We consider it to be "adjustable coverage". You can apply one or more light layers to achieve the coverage you desire. If you have a problem area and need more coverage, then apply the makeup with our Cover-It Brush, which will allow you to apply a heavier application with a more precise tool.
Q: I tend to have a lot of redness in my skin tone. What do you recommend to tone it down?
A: The first thing I would recommend to try would be a yellow-based foundation color (such as Warm Glow or Soft Beige), depending on your skin coloring. If that doesn't tone it down enough, I would try MC01 Calming Sun Mineral Corrective, which is a yellow based corrective powder that you apply before your mineral foundation.
Q: Does the makeup stay on all day?
A: It really does stay on well throughout the day! Here are two tips to keep your makeup on longer.
1. Set your makeup with Matte Setting Powder
2. Apply several light layers to get your desired coverage.
3. Set makeup with Hydra-Peptide Infusion Spray or Phyto Infusion Spray. Not only will it stay on longer, your skin will look more hydrated, luminous and healthy. Spritz lightly.
"The largest organ in your body works hard keeping you gorgeous! Treat your skin with respect; use pure, effective, non-toxic cosmetics." UltraPure Cosmetics.